About Corrosion Prevention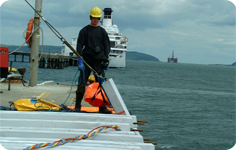 Based in Hednesford, Staffordshire, Corrosion Prevention Limited is a specialist engineering consultancy working in the fields of corrosion survey and inspection, corrosion mitigation and cathodic protection.
Our clients include major consultancy organisations, main and specialist contractors, local authorities, harbour boards, operators, facility management companies and professional service companies.
We work on projects all over the UK and internationally
At the early stages of a project we can undertake survey work and provide feasibility studies and provide advice on corrosion mitigation measures.
We can advise if cathodic protection is, in fact, a suitable solution for your project and if so we can assess the most suitable method and can provide detailed or performance specifications, design, and detailing and full construction drawings as required.
We have a broad knowledge of all types of cathodic protection systems, including well-established products and more recent innovations. However, we are totally independent of system suppliers ensuring that all our advice is completely impartial and always focussed on providing the optimum solution for the client and the project.
Our qualified engineers and technicians can provide on-site assistance throughout the construction phase of a project and work closely with clients to provide them with the highest level of expertise and technical advice.
For owners or operators with existing cathodic protection systems we can provide operation, monitoring and maintenance services.
We have particular experience in the field of identification and prevention of Accelerated Low Water Corrosion (ALWC), for harbour and terminal owners, operators, consultants and contractors.
CERTIFICATION OF STAFF
International standard EN 15257 details the requirements for "Competence levels and certification of cathodic protection personnel".
We can provide senior design and field engineers certificated by the Institute of Corrosion to the highest level of certification, Level 3, in each of the four cathodic protection sectors:-
Reinforced Concrete Structures
Marine Metallic Structures (Ports, harbours, terminals and off-shore structures)
Underground and Immersed Structures (Pipelines, tank bases, etc.)
Inner surfaces of metallic container structures (tanks)
We can provide site technicians with Level 2 certification to undertake surveys, site installation testing and inspection works.