Cathodic Protection Systems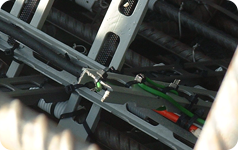 Welcome to the website of Corrosion Prevention Limited. We are a company that specialises in cathodic protection and the life extension of structures.
We can provide survey, diagnostic testing and specification services for the repair and protection of highway bridges, civil engineering structures, buildings, ports and petrochemical facilities at risk of corrosion. In particular we specialise in the design and specification of cathodic protection systems, including both galvanic anode and impressed current systems; for reinforced concrete structures, steel framed buildings, harbour piling and buried steel structures.
Our staff have experience of all manner of schemes and have worked on some of the world's largest cathodic protection systems, which have been installed on major bridges, terminals and port infrastructure. We have also been involved in specialised installations for heritage and listed building structures and our expertise covers systems for both new build and retrofit or rehabilitation schemes. We can provide experienced personnel to engineer repair and cathodic protection projects, from investigation and design through to commissioning and ongoing operation.

CP Certification Scheme
In accordance with BS EN 15257 we have design engineers certified to level 3 in all four cathodic protection disciplines.
Track Record