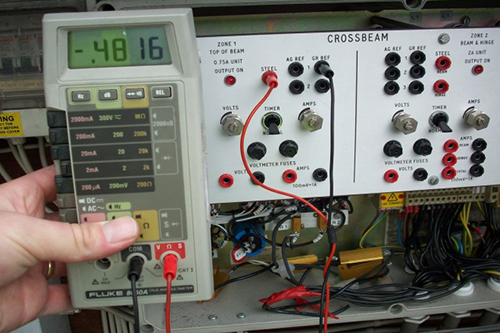 Monitoring of Cathodic Protection Systems
Project: Multiple Projects where Cathodic Protection is Operational
Site: Nationwde
Structure Type: Reinforced Concrete and Buildings
Overview of Services
The performance criteria and typical monitoring regimes for galvanic and impressed current cathodic protection systems are detailed in BS EN ISO 12696:2012. Typically systems require regular operational checks, routine performance verification and an annual review.
Corrosion Prevention Limited presently undertake cathodic monitoring works for a range of clients including Local Authorities, Housing Associations, Facility Management Companies, Consultant Engineers and Specialist Contractors.
Remote System Monitoring
In addition to the requirement for adjustment of current output to ensure optimum efficacy and system life there is a requirement for inspection and measurement to determine that all components in the system are operating in a proper manner.

Galvanic anode systems require monitoring to ensure that anodes are active and passing current and that their performance is adequate to prevent corrosion taking place.

Corrosion Prevention Limited offers a full operation and monitoring service tailored to our clients' requirements. This may entail on site services for manually controlled systems or bureau services for remotely accessible systems. Services undertaken range from full operational responsibility to annual review of data collected by others.

In addition, Corrosion Prevention Limited can provide full system audits, upgrade of existing equipment to remote monitoring capability, fault rectification and repair.

Corrosion Prevention Limited provides factual and interpretative reporting of data and assessment of system operation, in accordance with the relevant criteria.
Manual System Monitoring
All work is undertaken by skilled and experienced staff certificated in accordance with BS EN 15257 "Competence levels and certification of cathodic protection personnel".

View All Case Studies